ETSY TREASURY.
For those of you unfamiliar with Etsy, one of the wonderful things you can do is curate a treasury of items which you pick from other etsy stores. It's a wonderful feeling when this happens,mainly because it is something which has been chosen by someone you don't know!
You feel recognised and worthy and it is almost confirmation that you must be doing something right!!!!
So, this week I am feeling very 'treasured'. I have had items included in two treasuries.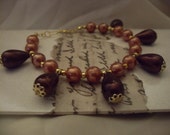 One with a bracelet chosen from 'Vintage Norah Recraft' and the other was a knitting pattern from 'Vintage Norah.' ( Yes, you have read it right….there are two stores on there. I wasn't able to list the recrafted jewellery in the same store as vintage because of it being handmade.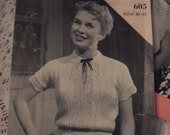 This is one of the reasons why I'm feeling especially pleased with myself because the bracelet is one I have made.
Thank you ladies for the inclusion.
So, pat on the back for me and big 'GO FOR IT' if you have a crafty talent to offer!